Web is an ocean of videos & there are numerous video sites. We all love watching videos. YouTube has gained popularity from a wide range of audiences – from kids who love to watch cartoon shows to adults who browse through TV shows they miss. It uses Adobe Flash Video technology to display its videos. It now has three main video formats: standard, high and 720p HD. However, it does not usually show download links for its videos since they want videos to be viewed through their website. Third-party programs (browser plugins, software applications, and websites) now offer a way to download YouTube videos.
Here are the top 3 ways to download videos for free.
[1] VideoDownloader Mozilla Firefox Plugin
Can download videos from many video streaming sites including YouTube or any page that has embedded music or video. When installed, a small VideoDownloader icon will be added in the browser's status bar and toolbar. Clicking the icon while navigating in a supported page will open a dialog box. You just have to right click and save the file into your system. The file downloaded is in FLV format.
Add to FireFox (Older Versions)
[2] Orbit Download Manager 's Grab++
Just Download Orbit Download Manager & install it. Its Free. Enable its Grab++ tool & reload the webpages with videos, music etc you want to download. It will automatically grasp them & allow you to save them onto your system.
Download Orbit Downloader
[3] YouTube downloader (Free)
YouTube downloader is the most popular third-party, free and is easy to use software for downloading YouTube videos. Once the program is installed, it will just ask for the link of the video you want to download. After hitting the OK button, it will ask you for the file name and where would you want to save the file. The software can also download videos from other sites such as Google Video and Yahoo Video. It can convert the downloaded videos to formats compatible to your iPods, PSP, cell phones, and other media players.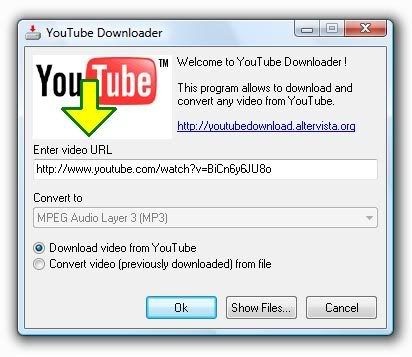 Download YouTube Downloader