Duplicate images are redundancy and they causes extra hard disk storage space. Somtimes while copying & pasting images with keboard(ctrl+v), unrequird copies of previously existing images are pasted. Finding and deleting them manually is tedious and requires absolute patient. Imagine all the searching, compare and delete.
Dup Detector in a Windows software developed by William L. Hunt that can detect and delete duplicate images intelligently. Dup Detector searchs a folder (including subfolders) for duplicate and near duplicate images.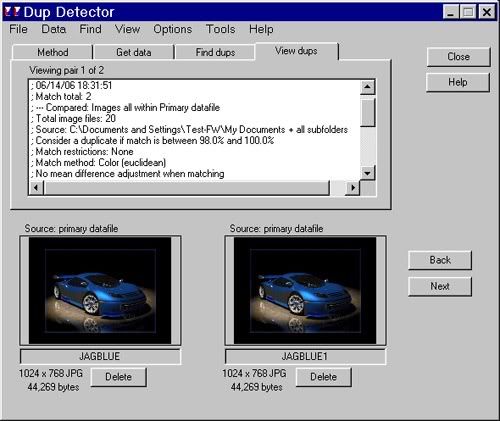 But how does Dup Detector manage to find the duplicates? Here's the recipe:
Dup Detector creates a data file by opening and reading image pixel data for each image in your collection. It then finds duplicates by % match and displays matching pairs from a log file.
Dup Detector supports checking on these following image file formats – jpg, bmp, png, tif, pcx, tga, wmf, emf, psp. It's free, so you don't have to pay a penny to clear some extra space for your hard disk.
Download Dup Detector