Twitter is the most popular micro blogging client.  But when it comes to analyze of your website twitter followers, it is important to take into account that which part of the world where your website has twitter followers. It can be a great help for examining your readers & preferences.   So, if you want to see the geographical location of your twitter followers, then there's a easy way.

Foller.me is a Free Twitter service that can provide you with the most detailed information about a specific Twitter user in the least amount of time.
You input a Twitter name into the search box and hit enter. Foller.me gets access to the profile of that user via the Twitter API, scans all the public info and the latest 200 tweets.
It builds up three tag clouds: topics, #hashtags and @mentions, all based on the user's recent activity, AND excluding all stop words. They are quite helpful to techies to see which kinds of links were tweeted.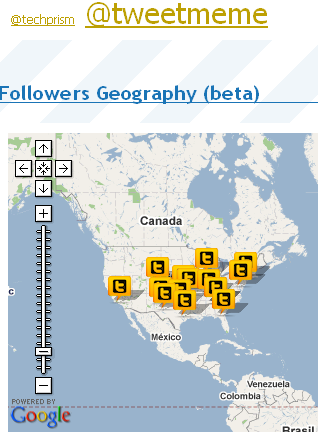 And it also presents the full World Map depicting all twitter followers. Simply clicking on the  [t] will display the twitter follower name & location.
So, Foller.me is a very useful tool. Follow techprism.